Did you know travellers now spend five times more time on Facebook than on any other travel-related apps, sites and searches? Or that 96 percent of travellers go to Instagram as they imagine all the destinations they could visit?
With over three billion users per month on these two popular social media, it's no wonder travel marketers are putting more and more time – and money – to reach potential travellers through organic and paid posts.
The folks at Sojern recently published the 2019 Report on Facebook and Instagram Advertising for Travel, a free report filled with insights stemming from interviews with more than 600 marketers across 46 countries. Here are some of the highlights.
How travel marketers spend across digital
Globally, travel marketers now spend 47 percent of their total marketing budget to digital platforms. Surprisingly, social platforms account for 30 percent of investments, with 23 percent going to Facebook and Instagram, and the remaining 7 percent going to other platforms such as Pinterest, Snapchat, Twitter, Linkedin, etc.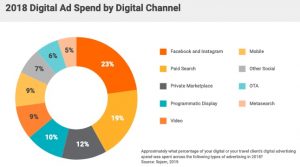 I must say I was surprised to see only 19 percent going to paid search, but when one adds up programmatic display and private marketplaces, the total sums up to 41 percent which is still lower than I would have expected. And only 6 percent in OTA advertising, really? A hotel-only survey would have certainly yielded different results, but this is interesting nevertheless.
Facebook and Instagram ads for travel marketers
In 2019, more than half of all travel marketers are spending more on Facebook, regardless of vertical.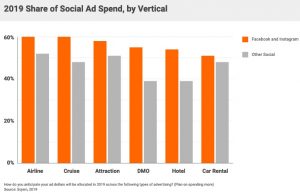 We can see that while all verticals spend rather evenly on Facebook and Instagram – note that airlines and cruises are slightly above the 60 percent level – it seems like destination marketing organisations (DMOs) and hotels are less active on other social networks, at least from an ad spend point of view.
Share of Digital Ad Spend for 2018 by size of budget

It's important to point out that not all travel brands spend their advertising budgets in the same manner, as larger brands seem to take advantage of the variety of possibilities, from search to programmatic to private marketplaces, which explains a smaller dependency on Facebook and Instagram ads compared to small advertisers.
Still, in 2019 an estimated 64% of large advertisers plan on increasing their ad budgets across Facebook and Instagram, compared to 44% for small advertisers and 54% for mid-size advertisers.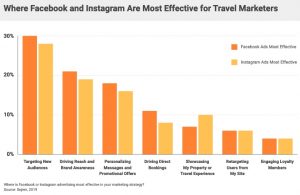 When digging in deeper to find out why travel marketers use Facebook and Instagram ads, we find that both play an active role at the top-end of the decision-making funnel, targeting new audiences and driving reach and brand awareness. This was true across all verticals analysed in the survey.
Interestingly enough, Instagram ads were seen as more effective than Facebook for one reason only: showcasing my property or travel experience.
Popular ad formats in 2019
Where the report from Sojern is particularly enlightning is when looking at ad formats used by travel marketers and which ones they anticipate to use more of in 2019.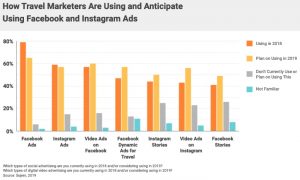 60 percent of travel marketers plan to use Facebook videos in 2019, an increase from the 57 percent who already used them in 2018. However, the biggest growth comes from Instagram videos – 56 percent plan to use them in 2019, compared to 43 percent who reported using them in 2018.
Notice also how stories are a popular format, with lots of wiggle room for growth, both on Facebook and Instagram.
Key challenges for travel marketers
Digital ad budgets may be growing, but so do the number of advertising channels, platforms, and tools travel marketers need to master.
Thus we are seeing incredible opportunities, but increased complexities as well, specially for smaller advertisers who often manage a budget on a shoestring.
With this in mind, here are the main challenges travel marketers see when it comes to Facebook and Instagram ads moving forward:
Personalised ads and offers in real-time (46 percent)
Achieving return on investment and profitability targets for advertising investments (45 percent)
Keeping up with the fast-paced advertising and technology landscape (45 percent)
Targeting travellers during a specific point along their path to purchase (45 percent)
"Facebook is important because of the size and scale—you just can't beat their audience. And because consumers are on the platform to think about and aspire to travel, you have to be there." – Brent Bouldin, vice president of marketing, media and customer acquisition, Choice Hotels International.