Most guests will give little thought to security as they breeze through reception and head for the pool deck.
But if there are no measures in place to protect their SUV in the car park or their littlies in the splash park, undesirables will find it very much easier to spoil their day.
Perimeter security is one of the more important parts of securing a property, and effective monitoring means guests can relax in knowledge that they are being as well looked after by cameras and boom gates as they are by the bartender.
Big brother surveillance
There are several ways properties can monitor who's coming in and out. These include biometric and number plate recognition systems, analysing camera data from CCTV and using on-site personnel to recognise people.
As one industry insider put it: "Guests like to be recognised, staff members like to be recognised – bad guys don't like to be recognised."
At the same time, accom's monitoring systems demand a much more low-key sensibility than, say, a military establishment or even a nightclub.
Understanding the facilities' needs and applying that knowledge to perimeter access control is key, with security experts recommending a dedicated electronic access control administrator for each property.
Dick Hudak, managing partner at Resort Security Consulting Inc, told Hotel Business: "Common threats to properties are non-registered people wandering the facility, which is a safety concern and a major liability, especially in a swimming pool area, for example.
"This also results in the usage of amenities, which can impact revenue, trigger crowding and commotion, and negatively impact the sense of exclusiveness, security and privacy that customer is seeking at a hotel or resort."
Border protection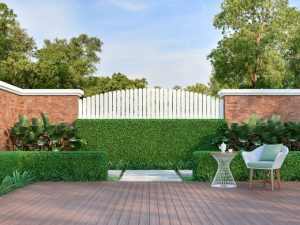 Establishing a perimeter isn't always easy but defining where your property's line begins is essential to securing its grounds. Using the built environment can help, as can walls, hedges, bollards and lighting, but fencing is the most common boundary definer.
While it's important for your property to be welcoming and aesthetically appealing, fencing must do the job of discouraging misuse, preventing theft, and maintaining safety. Expert advice is recommended on a case-by-case basis to ensure the best option for any location.
Similarly, boom gates should not be reminiscent of the entrance to Paremoremo Prison but still provide an adequate level of protection for those onsite.
Licence plate recognition is gaining in popularity, a camera snapping a car's license plate and software then converting the image to text alongside the recorded date and time of entry. On exit, another camera recognises the number plate and the system validates the vehicle's payment status.
This pay-by-plate method allows for various payment methods, including pay stations, pay wave, credit card, reception validation, mobile app or as part of accommodation billing.
Latest boom gates have a function which prevents tailgating by instantly lowering the pole to half-way. The gate will not open until the second vehicle's driver has taken a ticket or presented an access card.
Electronic locks
Electronic locks provide tailored access to perimeter and guestroom locks, with latest versions better engineered to prevent tampering or hacking.
All entrances, including those to pool areas, fitness centres, executive areas, parking lots and employee areas, can be controlled and managed when integrated with the electronic access control system.
Access control management software can configure electronic locks to access specific areas at set hours of the day on particular days of the week. And wireless solutions allow commands to be sent remotely to the locks in situations such as guest lockout or lost key cancellation.
An increased focus on lift access in recent years has also seen properties up their game by securing floors with electronic keys.  Valid keycards are generally required to call the lift or select specific floors the key is associated with, and in some cases the process is entirely automated after lift entry.
In the wee small hours
The latest technology solutions enable 24-hour check-in without requiring input from bleary-eyed staff. Automated check-in kiosks, key safes, keyless lock systems and turnstiles all allow guests secure access at any time of the day or night through user-friendly automated control systems.
One industry insider told AccomNews: "We are seeing major interest and growth in the kiosk check-in space as cost considerations, better guest experiences and the concept of frictionless and fast check-in/out become key requirements for hoteliers to meet guest satisfaction and innovation requirements.
"Self-service technology is expanding at pace and consumers are now expecting it as norm.
"Typically, we find a kiosk can repay itself within six months on staff savings – saving two resources per day and operating on a 24/7 basis."
For smaller properties where owner-operators are constantly on duty, kiosks can create a stress-free after hours experience. The machine checks the guest in, takes payment, cuts the room key and can even scan their ID, all while the owner sleeps.
Intercom systems, meanwhile, can prove a valuable addition to the safety of staff working alone or at night, providing integrated solutions for auto-door and lift control. They allow the identification of difficult or aggressive patrons before entry to the premises, while cordless handsets mean staff can always be contactable, wherever they are in the building.